#NABJNAHJ20 Professional & Educational Programs
CLICK

HERE

TO VIEW THE SCHEDULE-AT-A-GLANCE
*SUBJECT TO CHANGE

---
RSVP for Making Money Make Sense: Why Business News is Vital to Your Audience at #NABJNAHJ20
How the business world operates – whether technology firms to banks to media giants – today has a greater impact on the lives of everyday Americans than at almost any point in postwar history. From news about Facebook and balancing privacy and profit to whether the nation's biggest banks have fairly delivered government relief packages, objectively reporting business news to a general audience is needed to maintain an informed electorate and a wise consumer base.
In our live, interactive panel discussion, CNBC journalists will discuss how they do this and answer questions from young journalists who want to make business news hit home with readers and viewers.
Please note that registration is limited. Click
HERE
to register.
---


NBCUNIVERSITY
Are you interested in learning more from America's leading news organization? With No.1 programs across network and cable news, we are a team of best-in-class journalists. NBC University convenes our best and brightest to give you a window into how we produce for network news, cable, digital, streaming and local. We are looking for innovative, energetic, and intensely curious journalists interested in taking their craft to the next level. NBC University 2020 is a selective program that will take admitted applicants on a journey – from story concept to creation.
WHAT SHOULD I EXPECT?
• Timed writing and reporting exercises
• Conversations with NBC and MSNBC professionals to identify the most effective tools to improve your storytelling skills
WHO SHOULD APPLY?
NBC University is ideal for attendees who are:
• Producers with at least three years of experience hoping to move up the ranks and learn new skills
• On-air talent looking to move into a new market
• Veteran journalists interested in new media
• You must be registered to attend the 2020 NABJ-NAHJ convention to apply
The application deadline is July 13, 2020. Click
HERE
to Apply!
---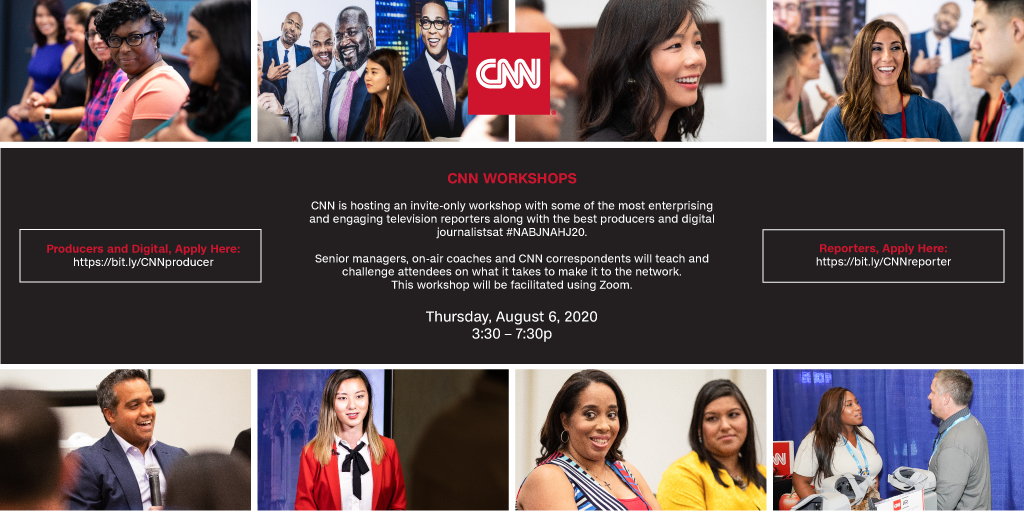 Are you a producer or want to learn what it takes to become a great one? Join CNN for an engaging interactive Producer Workshop! Led by some of the best news leaders in the industry, this workshop will give you tools to fine-tune your skills and grow as leaders. It also includes training on editorial decision making, leadership, producing philosophy, winning at breaking news and building a digital strategy. Learn why producing is one of the best paths to management. The opportunity is available to a limited number of registered attendees. Apply at:
https://bit.ly/CNNProducers.
CNN is hosting the most enterprising and engaging television reporters at the NABJ-NAHJ Convention! Talent executives, on-air coaches and CNN correspondents will teach and challenge you on what it takes to make it to the network. Topics include enterprise reporting, on-air performance and presentation, storytelling and interview skills. The opportunity is available to a limited number of registered attendees. Apply at:
https://bit.ly/CNNReporters
---